BEST FEATURE FILM
EVERY HIDDEN THING-Fritz Green
REVEREND I'M AVAILABLE TOO-Dr. Rodney L. Clark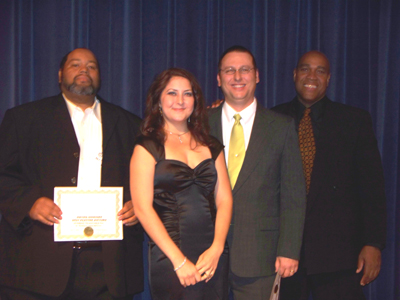 BEST SHORT FILM
CUSTOMER SERVICE-Nick Sabia
FULL CIRCLE-Shareef McIntosh
THE SCOTT DAILY STORY-Kevin Beers/Doug Solter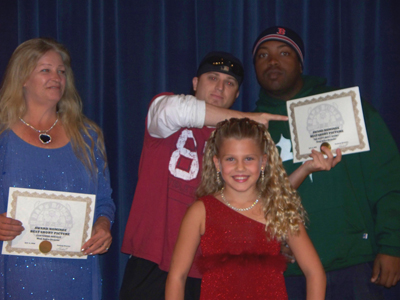 BEST STUDENT FILM
DRINKING TEA & HOT CHOCOLATE-Karsyn & Renee Weygandt
FALLOUT-Matt Richards
FUN WITH CONDOMS-Jay Sheldon
GOLDEN BOY-Zachary Raw
THE GOOD CAUSE-Diana Haslett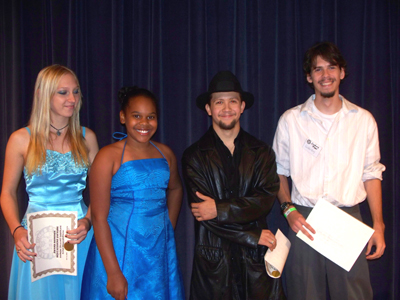 BEST DOCUMENTARY
THE AMERICAN HERO RIDE-Jack Randal
SIZZORTAIL FLYCATCHER-Lev Goncharov
SOCIETY & TORTURE-Katie & Cari Breske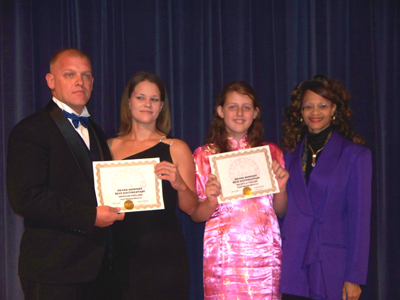 BEST MOCKUMENTARY
REAL HOUSEWIFE: LEGEND OF THE SOCKOVORIC MONSTER-Stacie Cannon
U.S.S. DENIAL-Jack Cherry
BEST MUSIC VIDEO
MICHAEL RAY LITTLE BAND-BIG CLOUD-Gregory Raw
THE LOST-CHUK COOLEY & THE DEMON HAMMERS-Titus Jackson/Chuk Cooley
THE ONE Pt. II-Peter Zhmutski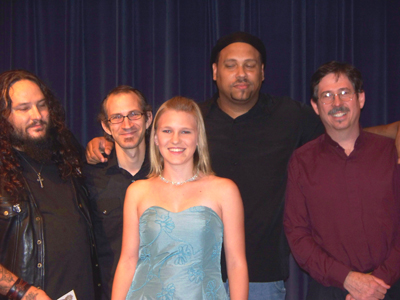 BEST ACTOR NOMINATIONS
BEST YOUTH ACTOR
Parker Acree-A CHRISTMAS STORY
Karsyn Weygandt-DRINKING TEA & HOT CHOCOLATE
Moriah Ray-OLIVE'S BOOK
Megan Murray-REAL COWGIRLS OF GENIUS
BEST ACTOR IN A SHORT MOVIE
Adam Ropp-FALLOUT
Ronnie Deane-FALLOUT
Huntley Durcell-FUN WITH CONDOMS
Kevin Beers-THE SCOTT DAILY STORY
BEST ACTRESS IN A SHORT MOVIE
Kelly Katic-FULL CIRCLE
BEST ACTRESS IN A FEATURE MOVIE
Hester Dean-REVEREND I'M AVAILABLE TOO
Victoria Esher-EVERY HIDDEN THING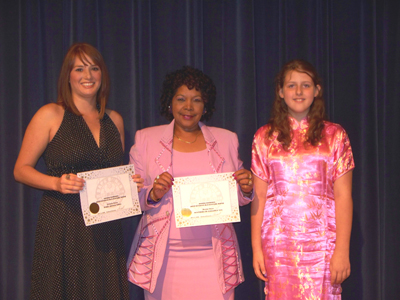 BEST ACTOR IN A FEATURE MOVIE
Rob Boyd-EVERY HIDDEN THING
Terry Andrews-REVEREND I'M AVAILABLE TOO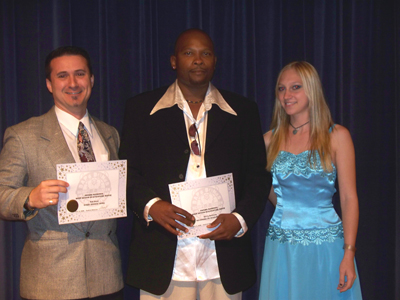 BEST MOVIE SOUNDTRACK AWARD
BOWLIN' ALLEY-Tony Weeks
A CHRISTMAS SHORT-Josh C. Jones
DIRTY LITTLE SECRET-Jay Sheldon
FEAR, THE ANTI-TRUTH-Jack Cherry
FOOD FOR THOUGHT-Jayesh Dave
MY LITTLE MASCOT-Jay Sheldon
ROSCOE'S DILEMNA-Jim Milburn/Susan Sybenga
SHROOMS ON THE 9th-Katie Breske
WONDER LUST-Cari L. Breske
YORKAN'S DAY-William L. Eckel
INTIMIDATION GAME-Screenplay by Michael Cunningham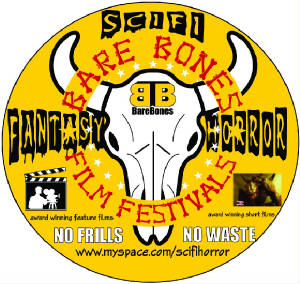 SOONERCON-June, 2008
THE SEED-Soonercon-Joe Hahn
GENRE: Sci-Fi/Fantasy
DIRECTOR-Joseph Hahn
SYNOPSIS- SUNG is a homeless veteran losing his mind of the banks of the L.A. River. Pursued by unseen forces, fighting unseen foes, Sung is ostensibly "just another lunatic". But as his invisible war continues, under bridges and in tunnels, we are taken deeper and deeper into Sung's nightmare mind. Into a nightmare of conspiracy, cloaking and the government's unseen war. Sung struggles to fight through what is visible to him, yet invisible to the world around him. Ordinarily, someone like this is perceived as 'crazy'. Beyond what you can see, beyond what we don't want to, lies...THE SEED.
LEAD ACTORS-Will Yun Lee, Peter Mensah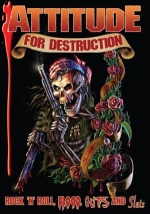 TULSA DEF CON-August, 2008
FEATURE
GENRE: Rock & Roll Horror
STORY: David Sterling & Jeremia Campbell
DIRECTOR: Ford Austin
EDITOR: Jason Peri
LEAD ACTORS: Simon Burzynski, Mighty Mike Murga, Jed Rowen, Colby Veil
SUPPORT ACTORS: Ann Marie Lynn Gracey, Monte Hunter
PRODUCERS-Brian Pera & David Steling Productions, Inc.
SYNOPSIS-The GUNS N' ROSES-esque band HOLLYWOOD ROSES, fronted by vocalist DRAKE, is on the verge of superstardom, courting a major record deal with Diamond Star Records. One small problem-the label doesn't want Drake in the band. So, the remaining band members do what any fame-hungry performer would do-they kill Drake, but Drake's girlfriend has made a pact with the devil and brings her deceased lover back from the dead. Drake then goes on a slashing spree of blood and guts against all who have crossed him, leaving behind a horrific trail of gruesome gory revenge.