Kelly dances at Awards Gala
KELLY KATIC, AGE 22, is a recent Oral Roberts University, Magna Cum Laude graduate, with a degree in Drama/TV/Film performance. Kelly is considered a triple threat. She is an actress, dancer, and singer. This past summer, she competed in an International dance competition in Las Vegas, where she won 1st place. Katic also received a silver medal on balance beam and was a five time National qualified gymnast. She won many vocal and pageant contest over over the past several years. Currently she is an actress for DARKWOOD STUDIOS where she is in the student film UNSUB: SUBJECT OF UNKNOWN ORIGIN, a sci-fi love story.
JOHN FANNELL performs at comedy clubs and colleges throughout the country and has appeared in concert with Bret Butler, Weird Al Yankovic and the Righteous Brothers. He offers his quirky view of marriage, family, dating, and life in general, spiced with off the wall guitar sketches guaranteed to make you laugh John made a cameo appearance in the indie feature "Forever Brothers".
Mae West Costumed Character-Janet Wapaha
Pictured with Bonehead Winners Tvli & Drew
JANET WAPAHA
Janet Wapaha is a proud Okie from Muskogee working as the Vice President of Marketing and Membership for a regional organization.
Prior to moving to Muskogee, Oklahoma three years ago, she spent most of her life in the Chicago area where she sang lead in country, wedding, and rock bands; performed in school and community theater productions; and even represented Illinois in an international teen pageant. Recently she experienced the joy of film, being casted as an extra in Unsub: Subject of Unknown Origin, and she plans to continue pursuing film projects.
Janet will perform in costume as "Mae West" during the Bare Bones Script-2-Screen Awards Show on Sunday.
At the upcoming Oklahoma Music Hall of Fame Induction Ceremony and Concert in November, Janet will sing in honor of the famous jazz singer Lee Wiley, prior to Brooks & Dunn and Vince Gil taking the stage.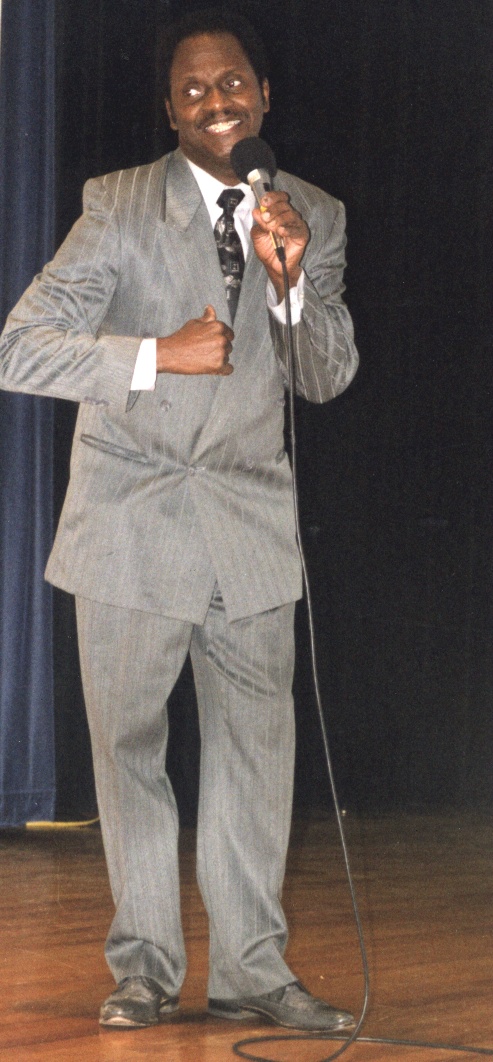 CARL L. ADAMS, JR. loves to sing and write songs. He has been singing in talent shows since junior high school. Also at that time, the boys in his classes would pay him to write love poems. Thus, Carls singing and songwriting career began.



Carl joined the United States Air Force after high school graduation. In his spare time, he organized a band which won the base talent show. One year, they also won the all-Air Force talent show and won the privilege of entertaining at bases around the country.



Shortly after Carl returned home to Tulsa, he organized another band, Whatevers Fair, which was selected for Tulsas first Mayfest. Simon of Simon and Garfunkel was in the audience and he gave Carl his card to look him up if Carl ever traveled to Chicago. However, Carls band soon disbanded and never made the trip to Chicago. Family obligations of most of the band members were a higher priority than pursuing a musical career.



Carl is now eligible for retirement and has decided to pick up his musical career. He has been singing at the Bare Bones Film Festivals for the last two years, thanks to the opportunities provided by Oscar and Shiron. This year, he and his wife, Vivian, signed up with OK Casting and they attended a songwriters seminar sponsored by OK Casting and conducted by Eric Redlhammer. He and Vivian offered two songs for critiques his signature song Soul Mate and a song written by Vivian, but sung by Carl, entitled Act Like a Lady. Both songs received a great reception from the audience and from Eric. In conjunction with Fresh Productions of Oklahoma City, Act Like a Lady was rearranged and Soul Mate was given more orchestration. Carl has put both songs on a CD (available at Script2Screen), and is checking with record companies. He will be performing these two songs at the Welcome Reception at 7:00 pm on Thursday, October 16. The movie he and Vivian wrote, filmed, directed, and produced, entitled Like a Lady, will be shown on Saturday, October 18 at 5:00 pm.



Carl has written many more songs, including the soundtrack to one of his movies, and he hopes to spruce them up with the help of Fresh Productions. He now has the time to pursue his career and dreams of singing, songwriting, and now, filmmaking.
ASHLEE REESE
Currently attends Connors State College in Muskogee with plans to attend Northeastern State University in Tahlequah to pursue a degree in International Business. She has been blessed with the gift of song and has been singing since age 12. She recently landed a small role in the Indie Sci-Fi Feature "UNSUB: Subject of Unknown Origin" produced by Darkwood Studios. Ashlee will perform in a Marilyn Monroe costume during the Bare Bones Awards Show.
CAPTAIN ADAM S. CHAMBERS
BLUE NOVEMBER CREATIONS
POET/FILMMAKER (Adam & Yvette)
Captain Adam Shea Chambers has been involved in film,
in and around the Tulsa area, for about four years. He
is proud to be an auteur and he is always in search of
local talent for his varied and numerous projects.
His first film, "Adam and Yvette", is an example of
networking with like-minded individuals to achieve a
common goal.
You can sample some of the Captain's hosting skills during the Open Mic & Artist Showcase in the Fireplace Lounge during the Bare Bones Script-2-Screen Film Festival on Saturday and on Tuesdays at the Gypsy Coffeehouse in Tulsa.
DANIEL KLEEFELD, concert pianist, composer, Photographer, and world traveler, spent two weeks of his time performing in seven different cities in Germany, Switzerland, and Austria.

He also appeared on two national and international TV programs, the Harvest Show, and the Getting Together
Show. It was a great experience to be able to share his musical gifts with the world. In December of 2002,
Daniel released "I Saw Three Ships", a Christmas album with two new songs. "It's one you want to play all
year long."

Some of the other places in the US that Daniel traveled to are:
Chicago, IL, South Bend, Indiana, Pittsburg,
PA, Ann Arbor, MI, Charleston, SC. and Ponca City, OK where he performed at the Marland Grand Home, a 16000 sqare foot mansion. Daniel will be also returning to Ponca City to perform three concert in the 46000 Square foot Marland Estate on December 4, 2003 for their Candle light tours.

Yes it has been an exciting year for Daniel Kleefeld.